By Robert Chaiken, Attorney and David Wolf, Attorney
Published by Child Injury Lawyer Network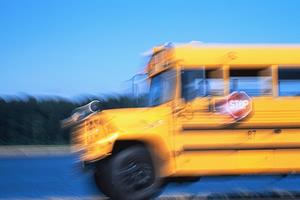 A Texas day care center bus crashed into a Ford Excursion on Thursday, September 23. Witnesses at the scene told officers the driver of the bus failed to yield the right of way to the Excursion. The bus was carrying 7 children, a day care teacher and the bus driver. All 7 children and the day care teacher were taken to Metroplex Hospital. Thereafter, one four-year-old female was transferred to Scott & White Memorial Hospital reportedly in serious condition due to a head injury. The bus driver was transported to the Carl R. Darnall Army Medical Center at Fort Hood. The driver of the Excursion was not transported from the scene. Police are still continuing to investigate the accident. If you would like to read more on this story please see Day care bus accident in Kileen, Texas sends 7 children to the hospital.
Drivers, especially those transporting children, need to pay attention and keep their focus on the road while driving. State roadways can be especially dangerous; cars are traveling at fast speeds and many drivers are engaged in forms of distracted-driving. By keeping your focus on the road, not diverting your attention away from the road and paying attention to the street signals, road signs and other surroundings while driving, you will make state roadways a safer place for all, especially children.