By David Wolf, Attorney
Published by Child Injury Lawyer Network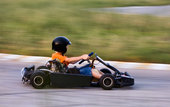 Baja Motorsports, a Phoenix-based company, recently recalled 308,000 mini bikes and go-carts after a child was seriously burned. According to the Consumer Product Safety Commission (CPSC), the gas caps on the Chinese-made vehicles can detach or leak, posing a fire hazard. Also, there is a problem with the vehicles' throttle; it can get stuck causing the vehicles to unexpectedly accelerate.
Baja Motorsports received 9 previous reports of detached or leaking gas caps, including one that led to a child being seriously burned. The company also received 25 reports of stuck throttles, which led to injuries to the face and body.
The go-carts and mini bikes were sold by various retailers nationwide as well as online retailers.
If you would like to read more on this story, see a list of online retailers and get a contact number to receive a free gas cap or repair see Over 300,000 mini bikes and go-carts recalled.