By Kevin Leach, Attorney and David Wolf, Attorney
Published by Child Injury Lawyer Network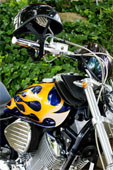 A bill (law) has been proposed for a modification to Virginia's current law regarding children passengers on motorcycles or other two-wheel transportation devices. The proposed law would make it illegal for any child under 8-years-old to ride on a motorcycle driver on Virginia roadways. Virginia's current child restraint law: Children riding in a motor vehicle will be restrained. However, some people do not consider a motorcycle or scooter a motor vehicle. Advocates of the bill say children under the age of 8 should be restrained whether in an automobile or riding a motorcycle, arguing that most children in that age range lack the strength and skills to safely hold on. Opponents of the bill say this law would drastically interfere with parental rights. The recent increase in Virginia gas prices has sparked a drive in motorcycle and scooter sales. Opponents, therefore, argue that with the new law many children will end up having to walk if the law is passed and enforced. For more on this topic please see Virginia proposes new law that will ban child passengers on motorcycles.