By David Wolf, Attorney
Published by Child Injury Lawyer Network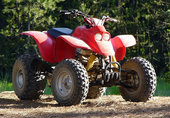 Phillip Gross was driving an ATV on Maier Road, South of Mount Vernon, Indiana with two children, aged 9 and 12, as passengers. Gross reportedly hit a dog, causing the ATV to rollover, trapping Gross and the 9-year old under the vehicle. According to deputies of the Posey County, Indiana Sheriff's Office, the boy died shortly after being transported to Saint Mary's Hospital by Life Flight. Gross and the twelve-year-old girl were treated and the girl has been released.
ATVs are open motorized vehicles that can flip over, causing serious injuries or death to children and adults alike. Adults should take care when driving ATVs and make sure that they and their passengers observe safety precautions such as wearing safety helmets. You can find out more about this ATV Accident at Child killed in ATV accident.</a