By Thomas Hastings, Attorney and David Wolf, Attorney
Published by Child Injury Lawyer Network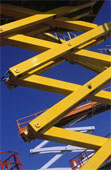 Rev. John Jenkins, President of Notre Dame University, has recently admitted responsibility in the tragic death of Declan Sullivan, a 20-year-old student videographer at the university. Sullivan was killed when a hydraulic lift he was on toppled over while he was filming an outdoor football practice. The National Weather Service reported gusts up to 51 mph on the day the incident occurred.
The State of Indiana is still investigating the incident. The State of Indiana is looking into whether federal and state workplace safety rules and industry standards prohibiting workers from using scaffolds during high winds and storms were violated. Authorities are also planning to review whether or not Sullivan received any training before using the scissor lift. If you would like to read more on this story please see Notre Dame President recently admits responsibility in student's death.
The death of this young man is a tragedy for his family and community. Safety training and other safety precautions may seem tedious and pointless at times, however, it is imperative that safety regulations be followed by employers and schools. Following safety guidelines will prevent workers and students from sustaining personal injury as well as prevent tragic deaths.