By David Wolf, Attorney
Published by Child Injury Lawyer Network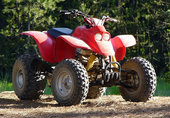 South Carolina is one of six states that do not have laws regulating All-Terrain Vehicles (ATVs). However, this could change if a new law, named Chandler's Law is voted into legislation. The law aims to reduce child personal injuries for those children who ride operate ATVs. Chandler's Law would require all young ATV riders to complete an ATV safety course, wear a helmet and ride with an adult while traveling on public land. The law comes at a time in when ATV-safety awareness is on the rise in South Carolina. According to South Carolina's Health Department, in the last 10 years, 63 children under 17-years-old have died in ATV accidents. Of those deaths, 40% were children younger than 9-years-old. The new law is also getting support from local doctors. Dr. Keith Borg, an Emergency Room doctor at the Medical University of South Carolina, says the amount of children treats with traumatic brain injuries as a result of riding or operating ATVs is staggering, usually resulting in paralysis or death. For more details please read South Carolina proposes new bill to increase safety for young ATV riders.