By David Wolf, Attorney
Published by Child Injury Lawyer Network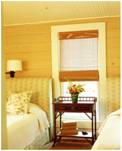 The United States Consumer Product Safety Commission (CPSC) has recalled several styles of roman blinds and roller shades due to the possibility that they might pose a strangulation risk for children. No fatal incidents have been reported.
ISDANS, TUPPLUR, and ENJE Roller Blinds sold at IKEA Home Furnishings from July 2005 to July 2009 have been recalled by IKEA. Consumers can receive a free repair kit from IKEA starting in November of 2009. No injuries have been reported from the use of these shades.
Faux suede roman shades, sold at Hanover Direct/Domestications and via the Internet at www.domestications.com and through catalog sales nationwide from January 2004 through December 2008, have also been recalled. A two-year-old boy reportedly injured himself after becoming tangled in the cords of the shade. Affected customers can get a free retrofit kit for their shades from the company.
Another brand of roman shades, Dublin Energy Solution Roman Shades sold by Bed Bath & Beyond have also been recalled. Two minor injuries have reportedly been caused by the shades. Customers can get a free repair kit from Louis Hornick & Company.
To find out more details about which shades were recalled and how to get your free repair or retrofit kit, go to More Window Blinds Recalled for Strangulation Hazards.</a