By Scott A. Marks, Attorney and David Wolf, Attorney
Published by Child Injury Lawyer Network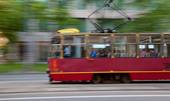 A tram accident at the Six Flags Discovery Kingdom theme park in Vallejo, California left 3 injured. Nancy Chan, a Six Flags spokeswoman, told local reporters that the tram was transporting guests to the parking lot when it was struck by a swinging metal gate. Apparently, a guest inadvertently pushed the gate causing it to swing and hit the tram. A 34-year-old man suffered from a protruding injury to his leg and a two-year-old girl had a laceration to her stomach. The third victim, an adult woman, only suffered minor injuries. The 34-year-old man was airlifted to UC Davis Medical and the two-year-old child was airlifted to Kaiser in Vallejo and later taken to Children's Hospital in Oakland. Bill Tweety, a spokesman with Vallejo Fire, stated both victims are still believed to be in serious condition. If you would like to read more on this story please see Three injured at Six Flags amusement park in California.
These accidents are very unfortunate for both the families and loved ones of the victims. Hopefully, the two victims in serious condition make a full and speedy recovery. Amusement parks are fun and exciting environments, however, the potential of danger is alwayspresent. Park guests should follow the rules and guidelines of the theme park and not wander into any authorized areas so as to minimize the risk of injury.