By David Wolf, Attorney
Published by Child Injury Lawyer Network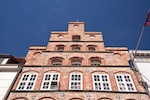 In Missouri and other States, there are dangers in virtually every community in the form of old buildings and old building codes. In Springfield, Missouri and other cities, many buildings are not subject to current building codes. Some of the newer codes require stricter regulations as to the construction and security in and around windows. This can be especially dangerous for children living in or visiting multi-story townhouses, homes, apartment complexes, and commercial buildings. With older codes, there are less restrictions as to window barriers and screens. This, in turn, can present a danger to children. It was reported in Springfield, Missouri recently that a 4 year old fell put of a third floor window and tragically died from the fall related personal injuries. See 4 Year Old Child Dies in Springfield, Missouri.
Here are some recommended safety tips for children and windows in any building from the first floor up . . .
*Keep playing children away from windows;
*Parents and child care providers should not rely on screens as safety devices in and around windows;
*Keep furniture away from windows to the extent possible to avoid providing a child with a play type or climbing structure near the windows; and
*Use safety devices like window stops to keep the windows from opening large enough for a child to climb through the window