By David Wolf, Attorney
Published by Child Injury Lawyer Network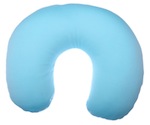 There is nothing more peaceful than seeing your child or a child under your care sleeping in a safe, clean, and supportive environment. There are certainly risks to infants and small children when they are at play inside or outside the home or day care center. A child can be injured while playing in a playground or doing some kind of activity. As such, supervision during these times are vital to prevent injuries to children. In addition to these activities, the sleep habits and environment of children (especially those under the age of 12 months) should also be closely monitored.
The Alleghany Health Department based in Cumberland, Maryland put out a wonderful and important public service announcement. The content and the message of this public service announcement should be posted in every day care center and home. It is a reminder and warning of sorts dealing with infants, sleep, and nursing pillows. There is a key word that is used in this public service announcement. The key word is NEVER. The word NEVER is presented in all capitals and is bolded. Here is the key message of the public service announcement:
Crescent shaped pillows such as the well known Boppy Pillow should NEVER be used as sleep aids or placed in a baby's crib.
Here is a link to the Public Service Department – Keep Your Infant Safe.
It should be noted that even the manufacturers of the Boppy Pillow advise and warn against the use of the Boppy Pillow as a sleep aid for infants. Medical experts and child safety advocates urge parents to clear an infant's sleeping are of blankets, quilts, toys, stuffed animals, and last but not least PILLOWS OF ANY KIND. These objects present a clear and present risk and danger to children of SIDS (Suddent Infant Death Syndrome) and suffocation in infants when place in or near the sleeping area of a child.
For the safety and protection of sleeping or napping infants, a day care center should incorporate the safety standards recommended by the Consumer Protection Safety Commission, the local health department, the State agency charged with regulating day care and child care centers, manufacturer standards, and last but not least common sense. Here is a link to the Alleghany County Health Department Public Service Announcement. Encourage your day care center to post this Public Service Announcement or something similar to it. Furthermore, if the State and local agency regulating day care center does not issue a Public Service Announcement like the one done by the Alleghany County Health Department, please encourage the State and local agency regulating day care centers to do so. By following these simple but important recommendations, serious personal injuries and even deaths to children can be prevented.
The book titled – The ABCs of Child Injury – Legal Rights of the Injured Child – What Every Parent Should Know – has chapters on Day Care Center Injuries, School Injuries, Playground Injuries, and other topics. You can get this book for free at The ABCs of Child Injury.