By David Wolf, Attorney
Published by Child Injury Lawyer Network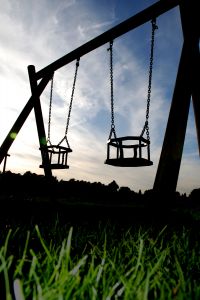 Children enrolled in schools, day care centers, after school programs, summer camps, and other programs often spend many hours during the summer and school year playing on swings in playgrounds. Most times, playing on swings is enjoyable. Unfortunately, at times, children suffer injuries on playgrounds on or near the swing set areas.
Schools, day care centers, and other programs have a duty to timely inspect and maintain the playground equipment including the swing set area. Furthermore, supervision should be consistent and comply with local and State laws depending on the program / facility supervising the children.
Children can sustain personal injuries in or near playground swing sets as follows:
A child can become tangled in the swing;
A child can be strangulated by the swing;
A child can sustain injuries when falling off or jumping off the swing;
A child can swing into another child in front or behind the swing; and
A child can injure the feet, knees, or legs when dragging them on the ground.
Because of the known and foreseeable risks of swings, child care providers including aides, teachers, counselors, volunteers, administrators, and others should do their best to properly supervision the children using the swings or even near the swings in the playground area.
The book titled – The ABCs of Child Injury – Legal Rights of the Injured Child – What Every Parent Should Know – has chapters on Playground Injuries, School Injuries, Day Care Center Injuries, Medical Bills / Treatment, and other topics. You can get this book for free at The ABCs of Child Injury.