By David Wolf, Attorney
Published by Child Injury Lawyer Network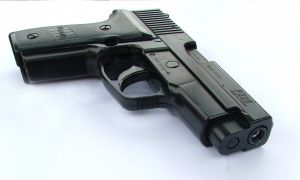 A 6 year old elementary school student in Victorville, California brought a gun to school in his pants. He was sent to the school office for sagging pants. While in the school office, the gun slipped down the student's pant leg while a school clerk was helping him put on a belt. The 6 year old was suspended by the school due to the zero tolerance weapon policy. The boy took the gun from his father, Michael Lewis, who was later arrested for receiving stolen property and possession of a firearm by a felon. You can read about this story at 6 Year Old Student Brings Gun to School in Victorville California.
It is extremely dangerous for any child to have his or her hands on a gun without proper adult supervision. This child brought a gun to school which could have resulted in any number of tragic and deadly situations. While nobody was harmed when this child brought the gun to school, the lack of personal injuries or wrongful death in this California elementary school does not in any way diminish the importance of keeping guns locked up and away from the use and possession of young children.
Pursuant to Section 626.9, California Penal Code, it is a felony to bring a gun onto school grounds since it is a violation of the California Gun-Free School Zone Act of 1995. You can read more about this important law at the California Gun-Free Zone Act of 1995.