By Stephanie F. Brown, Attorney and David Wolf, Attorney
Published by Child Injury Lawyer Network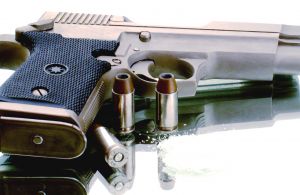 Young children especially boys are fascinated with guns. Guns are so cool to children that some bring the guns to school to show friends. How can this happen? How does the child gain access to the gun? What safety precautions are put in place for the gun? It is absolutely vital that gun owners safeguard their guns so that children do not have access to the guns. Children with access to guns bring them to school and show friends. This can be the recipe for disaster, personal injuries and wrongful death in Georgia and other States.
The Atlanta Journal Constitution reported that a 6 year old brought a loaded gun to Heritage Elementary School in Fulton County Georgia. The student showed it to a classmate at lunch before the gun was taken away. Fortunately, noone was injured. The students' parents were called about the incident. The parents will be required to appear before a school board tribunal before the child is allowed back into the school. You can read more about this story at 6 Year Old Georgia Student Brings Gun to School.