By Robert Fernicola, Attorney and David Wolf, Attorney
Published by Child Injury Lawyer Network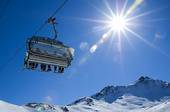 A 7-year-old child was transported to a local New Jersey hospital after the child fell from a chairlift at the Campgaw Mountain Ski Area in Bergen County. Bergen County Police spokesman Lt. James Giblin confirmed the child sustained a head injury as a result of the fall. Before being transported to the Hackensack University Medical Center, the child was reported alert and conscious. Campgaw Supervisor Ron Fuhr said the boy fell anywhere between 15 and 20 feet. The boy fell off the chairlift as it was approaching the unloading station and the safety bar had been raised. Fuhr said this was normal procedure and the child had just scooted too far forward. No charges have been filed in the incident, however, it is still under investigation. For more read 7-year-old boy falls from chairlift at Campgaw Mountain Ski Area in Bergen County, New Jersey, sustains personal injuries. There is no information as to whether the child was accompanied by an adult or other competent person while riding the chairlift. When small children are concerned, the best approach to take in preserving their safety or preventing them from sustaining personal injuries is to maintain constant and incessant supervision. Some times, children are unable to appreciate the dangerousness of their environments. Therefore, having an adult or other competent person providing constant supervision is highly likely to reduce any risk children may have at sustaining bodily harm or other personal injuries.