By David Wolf, Attorney
Published by Child Injury Lawyer Network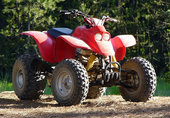 All-terrain vehicles seem to be the cause of several injuries among Alaska's youth. In the month of July, the state has already reported three separate accidents. In one, a child riding an ATV collided with car sustaining only mild injuries. In another, a rider was hospitalized after she went off the road and hit several trees. Lastly, two 17-year-old girls riding an ATV rolled-over killing one girl and injuring the other.
The two most persistent problems among youthful ATV drivers: they are inadequately prepared to operated the powerful vehicles underneath them and they do not wear the proper safety gear. Alaskans are urging the State Legislature to create new laws that will require Alaska's youthful ATV drivers and riders to wear helmets.
Another problem is that adults are letting children drive adult-sized ATVs. According to the Alaska Brain Injury Network Inc., children younger than 16-years-old account for one-third of all ATV-related deaths and injuries nationally. ATVs have dual roles for fun and function. However, powerful devices, such as ATVs, are inherently dangerous and should only be operated by those who are mature and properly acquainted with the device.
If you would like to read more statistics and information on this topic see ATVs become a problem in Alaska.
If you would like to read other articles on ATV-related injuries see CBS News Reports on Dangers of Personal Injury to Children from ATV (All Terrain Vehicles).
ATVs are fun, however, they are especially dangerous for children. Adults should teach their children at an early age the proper safety rules on the use of ATVs. Kids should always wear a helmet and be taught what to do in situations if the ATV happens to malfunction. When a child is driving an ATV, make sure an adult is always supervising the activity.