By David Wolf, Attorney
Published by Child Injury Lawyer Network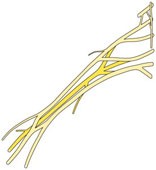 Brachial Plexus injury is a medical term used to describe an injury to the brachial plexus nerves in the shoulders. Brachial plexus is also known as the Erb's Point. A brachial plexus injury is generally caused to an infant during pregnancy. Occasionally, during a pregnancy, the infant's shoulders will be caught behind the mother's pelvis, causing a medical emergency known as dystocia. When this occurs, a doctor needs to dislodge the shoulders and may rely on the use of forceps to pull the head of the infant. This maneuvering attempt can lead to brachial plexus injuries. These injuries range from minor, healing in 3-4 months, to severe, causing paralysis in the arm and shoulder of the infant. Also, some children born with a Brachial Plexus injury can suffer from Erb's palsy, Klumpke's palsy or Brachial palsy.
Symptoms of Brachial Plexus injury:
– forearms are turned in and wrists are bent
– limp arm, unable to be raised by he infant
– droopy eyelid on the side of the injury, known as Horner's Syndrome.
If you would like to read more on this topic see Brachial Plexus Injuries.

Brachial Plexus injuries raise various legal questions: Who should pay for the child's medical bills? Will this include future medical bills? Pain and suffering? Loss of the enjoyment of life damages? A Child Injury Lawyer can help answer these questions and other legal questions you may have regarding your child's Brachial Plexus injuries.