By Steven Smith, Attorney and David Wolf, Attorney
Published by Child Injury Lawyer Network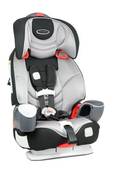 The results of a recent New York booster seat law found that traffic injuries among children ages 4-6 dropped 18% – the New York booster seat law required certain children to seat in car seats and took place in 2005.
Forty-seven states and the District of Columbia require booster seats, which children are to sit in after they outgrow their infant/toddler car seats but are still too small to be adequately protected by seat belts. However, Florida does not have such laws.
Seat belts fail to protect children who weigh less than 80-100 pounds and who are under 4-feet-9.
1. Kids should be tall enough, so the seat beat is resting against a hardy, bony surface against the body – such as the hips and collarbone – not the stomach.
2. Kids should not be able to bend their knees at the edge of the seat, even while sitting staight up.
3. Kids should be able to maintain the position in described above, without slouching or lying down, for the entire trip.
If you would like to read more on this topic see Booster seats saves lives.