By David Wolf, Attorney
Published by Child Injury Lawyer Network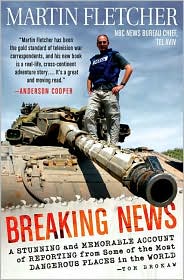 Martin Fletcher is the NBC News Bureau Chief based in Tel Aviv, Israel. During his 30 year career, Mr. Fletcher has travelled to many countries as a news reporter, correspondent, and / or cameraman. It is clear through Fletcher's reporting and details that he keenly understands the stories that he covers. His book, Breaking News (available at Barnes and Noble and Amazon) recounts not just a story . . . but history. From Israel to South Africa to Kosovo and many other parts of the world, Fletcher has used his sharp intellect, street smarts, common sense, and work ethic to get the job done. Through the years, Martin Fletcher has learned that it is important to report the plight and hardships of the people including children. Fletcher has interviewed thousands of people through the years. His book – Making History – does an excellent job of detailing his experiences in many dangerous places. It is truly amazing that Martin Fletcher survived the dangerous and deadly locales where he has gathered and filmed important events. Reading Fletcher's book has helped me put my life problems as well as the problems of others in perspective. Martin Fletcher has been around the world and has met with and interviewed world leaders. Through it all, Fletcher has remained grounded in his philosophy and demeanor. To Martin Fletcher, the best days are spent with his wife and children. I recently spent the better part of an afternoon with Martin Fletcher on his book tour throughout the United States. I was able to speak to him about his book, his life experiences, and some of his philosophy and opinions. He certainly is an interesting and affable person. Recently, he completed a new book about Israel which will be published in 2010. Hopefully, Martin Fletcher will continue his work as an author and write several more books in the future.