By David Wolf, Attorney
Published by Child Injury Lawyer Network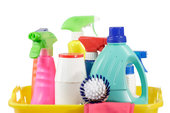 The packaging, scent, and color of common household cleaners are alluring to children. And, instead of looking like toxic chemicals, these products appear to children as fascinating toys or cool treats and drinks. According to a study in the September issue of Pediatrics, household cleaners such as bleach, drain cleaner and swimming pool chemicals put 267,269 children 5-years-old and younger in U.S. emergency rooms between 1990 to 2006. Most of the child personal injuries noted in the study were a result a swallowing products. Other personal injuries included chemical burns or irritation to the skin and eyes. Bleach was the number one product associated with the child personal injuries and about 40% of the cases were caused by spray bottles because they are easy to trigger, even for young children.
However, these types of personal injuries to children are decreasing. According to Lara McKenzie, a Columbus, Ohio researcher with the Center for Injury Research and Policy, the study revealed a 46% decrease over the 17-year period that was analyzed. If you would like to read more results from the study please see Household cleaners can cause personal injuries to your child and send him/her to the ER.
Although this decrease is good news, child injury researchers still urge parents, guardians, babysitters, day care providers, etc. to do better. First and foremost, lock these hazardous products up in a place where and child cannot get to them. And, after use, immediately return these products to the safe and locked location. Purchase products with safety caps and/or child-resistant packaging. But, perhaps the most important and successful means of preventing chemical-related personal injuries to children is maintain supervision and proper storage.