By David Wolf, Attorney
Published by Child Injury Lawyer Network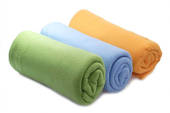 Sara Beth Whited, 48, owner of a residential child care center in Casper, Wyoming, has been charged with one count of child endangerment for an incident that occurred in October 2010. Whited was charged for her alleged role in the death of 3-month-old Tyler Parker. Nicole Parker, the infant's mother, found Tyler unresponsive inside a bedroom at Sara's Child Care, Whited's day care facility operated out of her Vista Way home. Parker told investigators she found her son around 3:30 p.m., he was "cold to the though" and his face appeared "bluish and purplish." Parker tried to perform CPR on her son, but her attempts failed because his jaw was "locked shut," according to an affidavit from the case. The affidavit also states that Tyler was found "swaddled in a blanket" with "his arms tightly pulled down to his body." An autopsy revealed the cause of death to be "asphyxia by bedding due to the fact of the infant being swaddled and placed on a soft foam bedding." According to the rules and regulations governing day care providers, infants must be placed on their backs for sleeping unless a licensed physician says otherwise and provides a waiver. No waiver exists in the instant case. There is some debate about the frequency Tyler was checked on after he was put down to sleep. In an interview with detectives, Whited stated she had checked on the child numerous times, usually about every 10-20 minutes. However, authorities say the facts do not support this claim. The affidavit states the child must have been dead for a considerable period of time before her was discovered. Upon being discovered, the unresponsive Tyler was taken to Wyoming Medical Center where he was pronounced dead. If convicted, Whited could face up to a maximum of on year imprisonment. Whited is represented by an attorney and will be presumed innocent until proven guilty. For more please see Casper, Wyoming day care owner charged after child dies from asphyxiation in her care.