By David Wolf, Attorney
Published by Child Injury Lawyer Network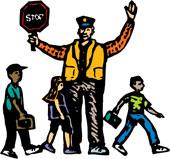 A pickup truck, pulling a plow behind the truck, struck 4 children while they were crossing a street in Wyoming. The road is near the children's elementary school, Godfrey Elementary. The children had a half-day of school on the day of the accident and the crossing guard, who was directing traffic at the crosswalk earlier that day, left about fifteen minutes before the terrible incident occurred.
The driver of the pickup was identified as Steven James Scobey, 40, of Byron Township. All children were received some form of medical attention. Alejandra Garcia and Anet Martinez were both treated for minor personal injuries and then released after the accident. Another child, Alejandro Garcia, was admitted to the hospital for a day and then released. The fourth child, Madeline Martinez is listed in critical condition at DeVos Children's Hospital. Madeline sustained a serious head injury, she is believed to have bleeding in her brain.
The "Don't Walk" bulb in the crossing signal was burned out at the time of the accident. Officials are unaware of this was a factor in the accident. Scobey was not ticketed and police continue to investigate the accident. If you would like to read more on this accident please see 4 children injured after hit while crossing street.