By David Wolf, Attorney
Published by Child Injury Lawyer Network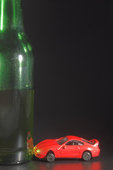 Jennifer Mock, a 37-year-old woman, crashed her car into an Eastern Pennsylvania day care center last November; the center was full of children at the time of the incident. Mock has recently admitted that she was driving under the influence when the crash occurred. Although no children were injured, an employee at the center, Little Sunshines Day Care Center, did suffer a leg injury.
Mock pleaded guilty to driving under the influence and other charges. Police say her blood-alcohol level was 0.14 at the time of the incident; Pennsylvania's legal limit is 0.08. The woman stated she was distracted by a puppy on her lap when the crash occurred. If you would like to read more on this story please see Woman admits to DUI after crashing her car through the wall of a Pennsylvania day care.
Luckily no children were injured as a result of this incident. Not only was this woman driving under the influence but she was also engaged in another deadly activity – distracted driving. Although the most popular form of distracted driving is talking or texting on the cell phone it is not limited to that activity. Eating, grooming, putting on make up, talking to other passengers, listening to loud music, etc. are all examples of distracted driving. These activities take the driver's focus and attention off the road making him or her more susceptible to being involved in a crash. Limit your distractions and keep your focus on the road. Doing so will protect yourself and others.