By David Wolf, Attorney
Published by Child Injury Lawyer Network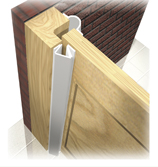 Parents, teachers, caregivers, and day care and school administrators can better safeguard the living, play, and school space for children by installing important safety products like the Fingershield door hinge guard. This safety product is distributed through Fingershield Safety USA, a company based in St. Augustine (St. Johns County) Florida. I personally spoke to the CEO of the company, Geoff Moseley, a man committed to preventing finger and hand injuries to children. Mr. Moseley understands the dangers of unprotected door jams to small children. An important and inexpensive safety measure – the Fingershield door hinge guard – can help prevent these devastating and often times permanent disfiguring injuries. The Fingershield Safety USA web site even has video demonstrations showing the installation of the product.
The installation of the Fingershield door hinge guard by schools and day care centers will help show that the school / center is committed to the safety of children. Parents and caregivers should ask school administrators and owners about the door jam areas. What safety precautions have been put in place? Does the owner or administrator know about the Fingershield door hinge guard? If the owner or administrator knows about these safety products, why aren't the safety products in place? You can read more about the Fingershield door hinge guard at the Fingershield Safety USA Website.