By David Wolf, Attorney
Published by Child Injury Lawyer Network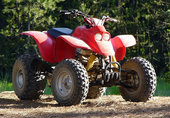 A five year old boy from West Wales, United Kingdom, fell off a child's motorcycle that he had been given as a Christmas present. He suffered serious head injuries from the fall and died after being taken to the local hospital. The child was reportedly playing with the gift in an enclosed playground when the motorcycle accident took place. His father had taken him to the park to practice, since it was closed to automobile traffic over the holiday. Unfortunately, because the enclosed area is usually used for driving practice, it has a concrete surface. According to a neighbor, the park was locked up, but the short fence would be easy for someone to hoist a bike over. Police are calling this a tragic accident. They would not say if the child was wearing a helmet at the time of the accident.
Motorized vehicles, such as motorcycles, all terrain vehicles (ATVs), and go-karts are very popular among kids. Unfortunately, if they are not used with appropriate care, supervision and safety precautions, these toys can turn deadly.
Find out more about this tragic motorcycle accident that took the life of a child at Boy, five, dies after falling off child's motorbike he was given as Christmas present.