By David Wolf, Attorney
Published by Child Injury Lawyer Network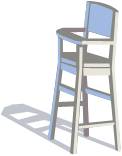 A serious defect with restraint straps has led IKEA to recall its "Leopard" style baby highchair. Parents, who own a Leopard highchair, are advised to stop using it right away and return the chair to IKEA. They will receive a full refund. According to a store press release, the chair has problems with its snap locks, which could cause the seat to fall out from under a child while it is sitting in the highchair. Loose snaps would also pose a choking hazard for small children. The company has received eleven reports of defective restraint straps, and one report of an injury related to the defective straps.
According to a company spokesperson, any child seats sold at IKEA are us. It is troubling that a large, established company like IKEA would begin selling a children's product without thoroughly testing it first. If an injury case related to these defective highchairs goes to trial, the company's product testing policy will likely be central to the case.
Read more about the IKEA defective highchair recall at IKEA recalls highchair.
If your child has been the victim of a defective product, please contact our firm for child injury legal counsel.