By Robert Chaiken, Attorney and David Wolf, Attorney
Published by Child Injury Lawyer Network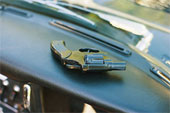 An 11-month-old boy was shot in an apparent drive by shooting in the Pleasant Grove area of Texas. Police have arrested a gang member, identified as 31-year-old Carlos Cordova, in relation to the drive by shooting. Cordova faces a charge of injury to a child and aggravated assault.
The incident occurred around 11:40 p.m. A gunman driving a maroon four-door Dodge vehicle approached the minivan and began firing shots into the driver's side of the van. Police believe the driver of the minivan, 22-year-old Juan Gomez, was the target of the shooting. Other passengers in the vehicle included 22-year-old Esther Chaves and her three sons, ranging in ages from 11-months to 4-years-old. After the shots were fired, Gomez sped away not realizing the 11-month-old infant had been shot. It was not until Chavez began taking her children out of the van when she found that her 11-month-old boy had been hit in the knee. After the discovery, police were called. The child was reported to be in good condition at Children's Medical Center Dallas, but he did have to undergo surgery to repair his fractured leg. If you would like to read more on this story please see 11-month-old boy hit in drive by shooting in Dallas, Texas.
Gang-related crimes can be deadly to innocent victims. Any of the passengers could have been killed in this drive by shooting. It is a tragedy that innocent lives risk being lost due to criminal activity.