By Ryan E. Alekman, Attorney and David Wolf, Attorney
Published by Child Injury Lawyer Network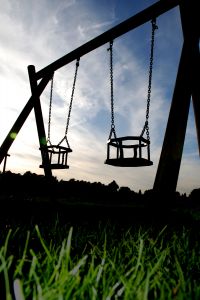 In Massachusetts and other States, children in child care / day care suffer personal injuries on playgrounds and outside areas. Some personal injuries result from poor supervision or negligent inspection / maintenance of playground equipment. Some personal injuries result from a poor design or dangerous heights of playground areas. Many injuries on playgrounds in Massachusetts day care / child care centers can be avoided with diligent supervision, properly designed playground areas considering the size and age of the children, and consistent maintenance.
Pursuant to the Department of Early Education and Care – Group Child Care Licensing Regulation P-GCC/SA-32, playgrounds must have impact absorbing ground surfaces in order to provide a safety barrier for child playing on playgrounds. This especially applies for playgrounds with any elevated surfaces and play equipment. Under this regulation, the Department has a chart as to the amount of compressed or uncompressed wood mulch, sand, wood chips, and other surfaces that must be used as ground cover for playgrounds. The purpose of this regulation is to prevent injuries or reduce the severity of injuries sustained by children on playground areas in Massachusetts child care / day care centers.