By David M. Baum, Attorney and David Wolf, Attorney
Published by Child Injury Lawyer Network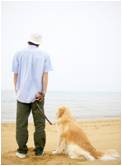 An Illinois Court of Appeals recently upheld the right of an Autistic child, Carter Kalbfleisch, to bring his service dog to school. The court upheld an earlier ruling by the Monroe County Court that allowed the child to bring his autism service dog, named Corbin, to school with him. The Monroe County Court decision had been appealed by the Columbia School District. The School District argued that the dog would be disruptive and that some of the other students might be allergic to it.
After the initial ruling, the School District declared that it could not meet Carter's educational needs, and sent him to school at the Illinois Center for Autism. The School District agreed to pay for his schooling at the center, but refused to pay for transportation for Carter and Corbin to and from school. The family is hopeful that Carter and Corbin will be allowed to return to school together. The School District still has the option to appeal the decision to the Illinois supreme court. You can read more about Carter's fight to stay in school with his Autism service dog at Autistic student's right to service dog upheld.