By Roy S. Dickinson, Attorney and David Wolf, Attorney
Published by Child Injury Lawyer Network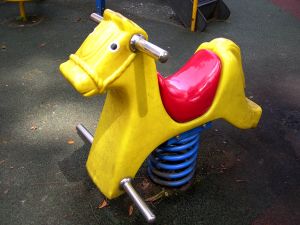 In Oklahoma and other states, day care centers must comply with rules and regulations as they pertain to outdoor safety and play equipment including playgrounds. Rules and regulations are found in Section 22 of the Requirements for Oklahoma Child Care Centers by the Oklahoma Department of Human Services. Outdoor play space or playgrounds must be enclosed by a building and / or fence that is at least 4 feet high that beings at ground level. Fencing must be in a stable, upright, secure and good condition that is free from dangerous conditions. Impact absorbing surfaces must be used over any fall zones under climbers, swings, slides and the equipment. Ground surfaces composed of loose materials must be 6 inches in depth.
It is important for day care centers / child care centers to follow these regulations which help prevent injuries or reduce the severity of personal injuries to Oklahoma children.