By Rob Shainess, Attorney and David Wolf, Attorney
Published by Child Injury Lawyer Network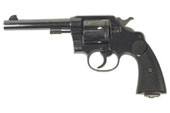 Chaska, Minnesota, police recently found a loaded handgun near a child care center in early April 2011. The gun's serial number was traced back to a Shakopee man, who told police he thought the gun was stolen from his truck back in December 2010. However, the gun was never reported stolen and police were skeptical of his story. Captain Jon Kehrberg of the Chaska Police Department says the circumstances most likely suggest the gun fell out of the man's truck and was ultimately pushed into a snow bank. The gun was discovered on April 5 by a man, David Granlund, who was walking his dog near the day care center. Granlund noticed something shiny in the grass. At first impression, Granlund thought the object was child's handgun. However, after he picked up the gun and noticed it was loaded with hollow point bullets he immediately put the gun back down and called police. The man who owned the gun did not tell police why he had a loaded gun in his truck. No charges have been pressed against the gun's owner. Kehrberg advised that if anyone comes across a weapon in public, they should avoid touching the weapon and immediately call police. Ultimately, it was very fortunate the gun did not fall into the wrong hands. For more read Gun found near Chaska, Minnesota day care center.