By Will Brown, Attorney & David Wolf, Attorney
Published by Child Injury Lawyer Network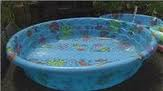 The near drowning of a local Springfield, Ohio infant, Hannah Rodgers has raised awareness for safety issues involving backyard pools, otherwise known as portable pools. According to the Clark County Sheriff's Office report, 14-month-old Rodgers was found unconscious in a portable pool after someone forgot to remove the ladder after swimming.
A new study published in the June issue of Pediatrics confirms that portable pools are dangerous. The study found that every five days during the summer months, an American child drowns in this type of pool. Gary Smith, the author of the study and expert on child injury at Nationwide Children's Hospital in Columbus does not think that parents consider the safety issues when they buy a portable pool. 'In hardly any time at all, you can set one of these up… It's different from an in-ground pool, where a lot of forethought (has to) go into it,' Smith said.
Smith is concerned that the most effective pool safety devices, such as pool fences, can cost more than the pool itself. Smith's Center for Injury Research and Policy has scolded pool manufactures for not producing the same safety precautions that are widely available for in-ground pools. Kathleen Reilly, head of the Consumer Product Safety Commission's pool safety campaign said that the Federal Regulatory Agency does not require portable pools to come equipped with safety devices. The CPSC only regulates pool drains and filters. However, Reilly acknowledges that the publishers of the study raise a crucial point: 'The ones about three feet high once you inflate them, those are the ones that are really dangerous,' she said.
According to the study, easy safety measures such as removing pool ladders and locking all doors to the outside prevent the largest percentage of drownings. For more information on this study and topic, see Portable backyard pools dangerous to young children.