By David Wolf, Attorney
Published by Child Injury Lawyer Network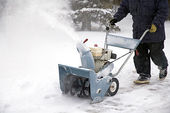 During these chilly months, families need to be cautious while operating snow blowers. According to the Consumer Product Safety Commission (CPSC), in a recent year almost 600 finger amputations were caused by the improper use of snow blowers or snow throwers. The majority of these severe personal injuries occur when operators attempt to clear snow from the discharge chute or debris from the augers with their hands. Simple prevention include fully understanding the equipment and never touching the machine while it is in operation. Yes, these machines do make our lives easier but they are still machine with fast moving parts that can inflict serious person injuries to homeowners, parents, and children. In fact, the CSPC reports that each year approximately 5,740 hospital emergency rooms-related injuries are associated with snow blowers. The agency has also reported 19 deaths associated with snow blowers since 1992, which have been caused by people getting caught in the machine and carbon monoxide poisoning. Therefore, make sure you fully understand the equipment you are working with. Parents should also inform and teach their children how to appropriately use these machines.
The CPSC offers the following tips:
– Stop the engine and use a long stick or other long device to unclog the machine.
NEVER use your hands.
– Always keep you hands and feet from moving parts.
– Never leave the machine running in an enclosed area.
– If you have an electric snow blower, be aware of the power cord at all times.
To read more on this topic please see Snow blowers can be more dangerous than others think, Practical safety tips.