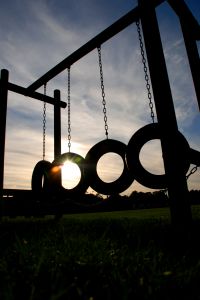 By Sara Schlafstein, Law Clerk and David Wolf, Attorney
Published by Child Injury Lawyer Network
In the State of Washington as well as other States, playgrounds provide children a place to have fun and be active.  Playgrounds allow children to move around, use their imagination, and interact with their friends.  To have fun, playgrounds should be a place where there can be a certain amount of adventure.  This must be tempered with safety and adult supervision.  Unfortunately, playgrounds can be the site of serious personal injuries or even the death of a child when equipment is in disrepair, equipment is not age appropriate for the children in and around the playground, equipment is dangerous, and / or there is a lack of supervision.   While most playgrounds are designed with safety in mind and provide a great environment for children, adult supervision should always be provided because most playgrounds have swigns, ropes, monkey bars, and / or elevated areas in which a child can be injured.  Furthermore, children need to be supervised to make sure that the playground is being used as designed.  Furthermore, any time that children play in the same area, there is always a risk of rough play, bullying, and other acts that can and do lead to the injury of a child.
It was reported by several media outlets that Stormy Solis (a 7 year old girl) died as a result of  a swing set related injury at Fisher's Landing Elementary School in Vancouver, Washington. According to the Multnomah County Medical Examiner's office, the 7-year-old girl suffered a fatal closed head injury. After falling off the school's swing set, she reportedly felt dizzy upon her arrival home, and was later found sick in her bedroom that day. She was then taken to a medical center and diagnosed with a traumatic brain injury, and later transferred to Doernbecher Children's Hospital in Portland. She was taken off life support by her doctors on the morning of Friday, October 3, 2014. This tragic event has led to changes in playground policies in certain Washington counties.
As a result of the accident, two Washington school districts, Spokane and Richland, are removing swing sets from all school playgrounds. The decision is garnering mixed criticism from parents in the area. The incident, however, raises important questions regarding swing sets on playgrounds and the extent to which they should be restricted or banned. See School District Removes Swing Sets Following Death of Child Resulting from Playground Injury.
Due to the motion and heights associated with swing sets, personal injuries can result especially when a child falls off of a swing or jumps off of a swing in motion.   A child can also be injured if he or she walks too close to another child in motion on a swing set.  With proper adult supervision and use of the swings by the children, most swing set related injuries can be avoided.
Most personal  injuries come from misuse of equipment such as standing on the seats, or walking closely behind or in front of a swing. To some, banning swing sets from a playground may seem drastic or an exaggerated reaction to an isolated incident.   To others, the banning of swing sets makes the playground that much safer and better protects the children.
Most playgrounds these days still have swing sets in place.  Playground supervisors should adhere to certain guidelines to prevent swing set related injuries. According to the United States Consumer Product Safety website (www.cpsc.gov), swings should be placed far enough apart from each other to prevent injuries resulting from impact between moving swings. As such, it is suggested that swing spacing be:
– At least 8 inches between suspended swings and between a swing and the support frame.
– At least 16 inches from suing support frame to a pendulum see- saw.
– Minimum clearance between the ground and underside of swing seat should be 8 inches.
– Swing sets should be securely anchored.
In addition, authorities should create a no-access zone around the swing set to prevent children on the ground from coming into contact with a moving swing. Beneath the swing set, there should be a shock absorbent material rather than a hard material such as concrete. Supervisors should monitor the children at all times to make sure that children are using the swing set equipment properly (such as refraining from standing on the seats or roughhousing in close proximity to the equipment, etc.). Adults should use necessary disciplinary action when safety rules are broken to prevent serious injuries. For more information on swing set and playground safety tips, see Playground Safety Tips.
The book titled – The ABCs of Child Injury – Legal Rights of the Injured Child – What Every Parent Should Know – has chapters on Playground Injuries, Sports Related Injuries, Day Care Center Injuries, School Injuries, and other topics.  This is a wonderful resource for parents seeking some information when dealing with the aftermath of a child injury.