By David Wolf, Attorney
Published by Child Injury Lawyer Network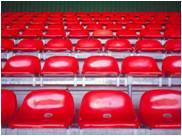 A mother's piercing screams brought the Washington state high school wrestling championships to a sudden halt in Tacoma recently. The woman's seventeen month old child had just slipped through a gap in the bleachers at the Tacoma Dome, and had fallen twenty to thirty feet to the concrete below.
Amazingly, when medics reached the girl behind the bleachers, they found her conscious and moving about. She was rushed to the hospital, and is reportedly doing well, though her condition was not officially released.
A spokesman for the Tacoma Dome is calling this a freak accident, saying that the dome has been in existence for over twenty five years and this is the first time an accident of this nature has taken place. Immediately after the accident, Tacoma Dome employees searched the arena for gaps and taped over several as a temporary measure until more permanent modifications can be made. Investigators are now talking to witnesses to piece together what happened. They have said they will do whatever it takes to keep such an accident from happening again.
At the same event, a person fell through a ceiling tile in a restricted area, but was not injured badly enough to require a trip to the hospital.
To find out more about this harrowing accident at the Tacoma Dome, visit Child injured in fall from Tacoma Dome bleachers.