By Thomas Hastings, Attorney and David Wolf, Attorney
Published by Child Injury Lawyer Network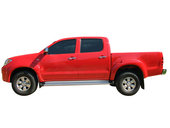 A man is reported dead on the scene after he crashed his Dodge pickup truck into a daycare center in Fort Wayne, Indiana. The Fort Wayne Police Department responded to the single-car accident a little before 8 a.m. and found the man unresponsive and pinned inside his truck. According to a written statement by police, the man was reportedly driving at a high rate of speed, left the road, struck the daycare center and hit a power pole before finally rolling into a vacant lot. Medics arrived at the scene and declared the man dead. The crash remains under investigation by local authorities and agencies.
The death of this man is a tragedy for his family and community. Speeding is a dangerous and sometimes deadly driving behavior. By speeding, a driver reduces his or her ability to brake or otherwise stop the vehicle in order to avoid a collision. It is important for drivers to obey designated speed limit. Driving at a safe speed will make roadways safer for all other drivers and passengers. If you would like to read more on this collision please see Speeding man fatally crashes into daycare center in Fort Wayne, Indiana.