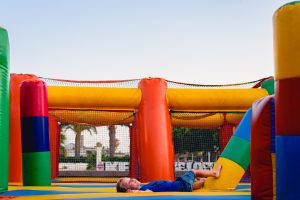 Bounce houses are commonly seen in neighborhoods, amusement parks, fairs, parties, and other events. On most occasions, a bounce house is a great way for a child to play, get some exercise, and interact with friends. Unfortunately, bounce houses and similar recreational structures can be the site of a very serious injury and even the death of a child if safety precautions are not followed, including but not limited to, the anchoring of the bounce house. Furthermore, adult supervision is always key to protecting children from injuries. Kids will be kids. They lack good safety judgment and when there is no adult around – accidents and injuries can and do happen.
A recent accident in Nebraska exemplifies the instantaneous moment where fun on a bounce pad can turn injurious and deadly. A two-year-old boy died and his five-year old sister sustained a broken arm when a strong breeze uprooted the anchoring stakes of the moon bounce they were playing in at a Halloween pumpkin patch. The little girl was thrown from the bounce pad as it blew over, which saved her from serious injury. Unfortunately, the little boy tumbled with the bounce house as it blew over, which caused fatal head injuries. This tragedy in Nebraska demonstrates only one of the multitudes of ways in which a bounce house can cause injuries.
According to the Children's Hospital of Los Angeles, other common injuries from trampolines and moon bounces are head trauma, neck injuries, and broken legs. Suffocation by the plastic of a bounce house poses additional risks, such as lung or brain damage from a lack of oxygen. Furthermore, the children's hospital also indicates that over 10,000 children a year sustain injuries in moon bounces and that over a third of those injuries occur in children younger than five years old. See Bounce House Related Personal Injuries to Children.
Despite these statistics, injuries from trampolines and bounce pads remain largely preventable. Following a few safety precautions can reduce the risk of injury or death. Some helpful safety tips are not allowing children under the age of six to jump in bounce houses, ensuring that the bounce house contains only a small group of children at once, having children of similar sizes bouncing at the same time, restricting tricks and horseplay on the bounce pad, confirming constant adult supervision of children playing in moon bounces, and requiring removal of jewelry and sharp objects when entering the bounce house.
An injured child, or his or her parents, may be entitled to a damages award if the injury occurred because an individual possessed and breached his or her legal duty of care to children jumping on the bounce pad. For instance, if an injury occurs because of the deflation of an improperly manufactured bounce house or a bounce house that someone negligently set up, then a child may be entitled to financial compensation. Adult supervision is also key to preventing injuries. It is important to limit the number of children in the bounce house.  Furthermore, smaller and younger children should not be in the bounce house with older and larger pre-teens and teens.  When an injury takes place as a result of improper maintenance, set up, supervision, or some other form of negligence, parents of a child injured in a bounce house or on a trampoline should consult an experienced Child Injury Attorney for legal advice as to the laws in place and recommended courses of action.
David Wolf is a personal injury attorney with over 28 years of experience in handling child injury cases.  He is the author of 11 books including the book titled – The ABCs of Child Injury – Legal Rights of the Injured Child – What Every Parent Should Know.  The book has chapters on Medical Care / Medical Bills, Damages / Compensation, Automobile Accidents, Day Care Center Injuries, School Injuries, Park and Playground Injuries, Theme Park and Amusement Park Injuries, Store – Shopping Center – Mall Injuries, Homeowner's Insurance, Dog Bite Injuries, Swimming Pool – Water Parks – and Other Bodies of Water, Child Abuse and Neglect, and Sports and Recreational Injuries.  You can get this book for free at The ABCs of Child Injury.