By David Wolf, Attorney Published by Child Injury Lawyer Network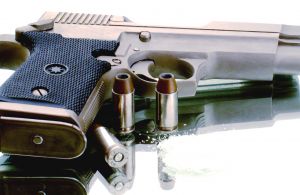 In movies, television shows, comic books, and cartoons over the years, guns and gun fighting have played a prominent role. In many media forms, gun play or gun power is glorified. The good guy saves the day by killing the bad guy. Guns are are powerful way of showing power, authority, and, to some extent, heroism in movies, television shows, and other media. It is no wonder that many children find it absolutely fascinating to handle, play with, marvel at, and, yes, fire a gun. Unfortunately, the same guns in appearance that are displayed on television, movies, comic books, and other media are the ones that cause tragic and preventable deaths of children at homes and other areas. Gun ownership is a right that we have here in United States. It is a right that U.S. citizens will fight for to all ends and it certainly is an important right; however, for the sake and safety of children and others, guns should be safeguarded and kept out of the reach and use of children who are at risk and temptation for playing around with guns without proper adult supervision. Guns should be safely secured and locked away from children in homes. This simple but important act can help prevent the untimely and tragic deaths of children.
If a child is injured or tragically dies as a result of a shooting, there may be a case or claim to pursue against the gun owner, a liability insurance policy, a homeowner's policy, a business, a school, a day care center, and / or others depending on the facts and circumstances of the case. Shooting cases involving the personal injury or death of a child can be very complicated. Because of this, it is important for a parent to consult with a Child Injury Lawyer as to the rights of the injured child and the rights of the parents under the applicable State law. The book titled – The ABCs of Child Injury – Legal Rights of the Injured Child – What Every Parent Should Know – has chapters on Homeowner's Insurance, School Injuries, Day Care Center Injuries, and other topics. You can get this book for free at The ABCs of Child Injury.