By Jonathan Safran, Attorney and David Wolf, Attorney
Published by Child Injury Lawyer Network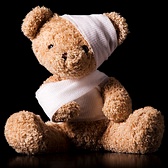 Joshua J. Werner, a 25-year-old Wisconsin man, was sentenced in Wood County Circuit Court to 1 ½ years in prison and another 7 ½ years for second-degree reckless injury of a child. Wood County Judge, James Mason, imposed the maximum sentence upon Werner as well as 7 years of extended supervision. Werner was convicted of what some experts determined as the worst case of physical child abuse they had seen. Werner was convicted of physically abusing his, now, 2-year-old daughter. According to the criminal complaint filed on August 18, 2008, the child was admitted with a broken leg to Riverview Hospital where official contacted authorities about the possible child abuse of the baby. The infant was then transferred to the Children's Hospital of Wisconsin in Milwaukee. There, doctors found more broken bones; specifically, 20 broken ribs, broken collarbone, leg, finger, toe and vertebrae fractures. The mother of the child, Nancy Hetze-Werner, 32, initially told authorities that a dog was responsible for the child's injuries. However, she later admitted that the infant had been alone with Werner. Werner's defense attorney, Richard Bender, argued Werner's own experience with childhood abuse, coupled with an IQ in the 65 to 75 range compromised Werner's judgment and emotional control. To read more about this article see Wisconsin man will serve 9 years in prison for physically abusing his infant daughter.
Fortunately, this child was not killed by the brutal attack she endured. However, this girl may face a lifetime of physical and emotional stress as a result of the attack. Child abuse and neglect should be reported immediately to authorities so a criminal investigation can pursued as quick as possible.