By Scott A. Marks, Attorney and David Wolf, Attorney
Published by Child Injury Lawyer Network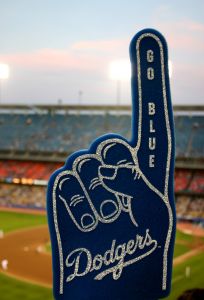 A 3-year-old girl was struck by line drive ball at a Dodgers baseball games. The ball was hit by Dodgers player Russell Martin during batting practice at Dodger Stadium. The child sustained a skull fracture from the line drive and was rushed to the first-aid station by her father. According to the Associated Press, a Dodgers spokesperson said the girl was scheduled for surgery at Childrens Hospital Los Angeles, her injuries were not life threatening. Martin expressed sympathy and concern for the child and offered to pay for the medical expenses. To read more about this accident see 3-year-old struck by line drive ball at Dodger Stadium.
This is a tragic accident for the child, her family and the community. Injuries to children can happen during the most unexpected times. Safety precautions should always be taken in order to ensure a safe environment for children. Hopefully, the child will have a fast and complete recovery.
Liability is an interesting issue in this incident: Would the baseball team have any liability? Does purchasing a ticket constitute a waiver of liability regarding these types of injuries? If Martin did not offer to pay of the medical expenses, who would bear the cost of these expenses?