By Scott A. Marks, Attorney and David Wolf, Attorney
Published by Child Injury Lawyer Network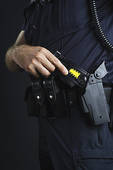 A 15-year-old boy was stunned with a taser after an outburst in his classroom. Anthony Jones, 15, attends Delta College in Stockton, California. Because he is autistic, Anthony attends a special class catered to his needs. His family said Anthony had an outburst in class after he received a grade on a test that he did not like. After his tantrum, Anthony was asked to leave the classroom. When he refused to leave, police were called. Tajmah Jones said school officials told her that as a police officer went to remove Anthony from the classroom Anthony resisted and reached for one of the officer's guns. At that point Anthony was stunned with a taser. He was taken to San Joaquin General Hospital to have a barb removed from his body. For more read Autistic boy stunned by police in Stockton, California.
It is well known that some teens with autistic will have outbursts and what may be deemed behavioral problems. It is important to have an education plan and behavioral plan in place that accounts for the needs, abilities, and, yes, the disabilities of special needs and autistic teens and children. By tailoring a program, plan, and procedure to the needs of each child, incidents like the one above can be reduced or prevented altogether.