By J. Rock Palermo, Attorney and David Wolf, Attorney
Published by Child Injury Lawyer Network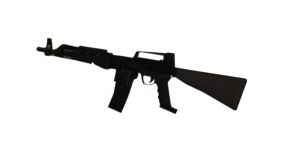 In Baton Rouge, Louisiana, school officials and law enforcement may have help avoid a disaster in the form of a school shooting by taking action to arrest a 13 year old and remove an assault rifle from school grounds. At the Southeast Middle School on Harrells Ferry in Louisiana, a 13 year old brought a military style Ruger mini 14 assault rifle to school and place the rifle along with high powered rounds of ammunition in his locker. Other students informed school officials that the weapon was inside the student's locker. Telling school officials about a dangerous weapon was wise and brave of these students who, in turn, may have helped save the lives of fellow students and teachers. Within five minutes of receiving the information, school officials contacted the resource police officer and located the gun.
Tragedy was avoided in that no students suffered personal injuries or death by a student on a mission to harm others with this assault weapon. School officials and police should be commended for quick, calm action that helped diffuse a very dangerous and potential deadly situation. You can more about this story at
Louisiana Middle School Student Arrested for Bringing Assault Weapon with Ammunition to School.