By David Wolf, Attorney
Published by Child Injury Lawyer Network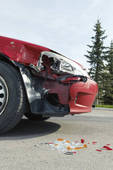 A car crashed into the front of New Beginnings Daycare, an Indiana day care center. The car was driver by a parent whose child attends the day care. Apparently, the driver jumped a curb in the center's parking lot and rammed into the building's office. Luckily, no one was injured. However, severe damages was done to the building; the wall of the knocked in several feet and the floor was littered with debris such as files and bottles. The driver told officials that the brakes of her car malfunctioned. If you would like to read more on this story please see Parent crashes into day care while picking up child.
Generally, drivers need to keep their focus on the road and distractions to a minimum. Distracted driving includes but is not limited to the following activities while driving: talking and texting on the cell phone, eating, grooming and reading. By keeping these distractions to a minimum, drivers will make the roadways safer, especially for children. Also, drivers who keep their focus and attention on the road are at less of a risk of being involved in an accident. These drivers will be aware of their surroundings at all times and be able to react appropriately in pre-accident conditions. Of course, at times, a vehicle will malfunction and cause an accident As such, it is also important to have frequent and scheduled maintenance of vehicles as well.