By David Wolf, Child Injury Lawyer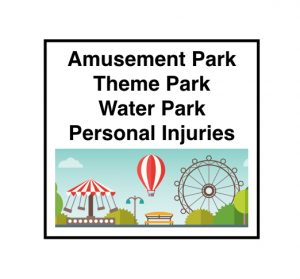 It is common to see fairs, amusement parks, and festivals in just about every community on a regular basis. When a person visits an area with amusement rides, it is the rightful expectation of the the visitor that the rides are safe, that the rides are inspected, and that the rides are well maintained.  Unfortunately, for some visitors, including children, a fair, theme park, amusement park, or festival is the site of an accident or incident that causes serious personal injuries.  When a ride breaks down or malfunctions, a person can be put at great danger for personal injuries.  This applies to both adults and children.  For each State, there is a division of government that regulates and inspects fairground rides and amusement park rides.  Typically, the duties and responsibilities for inspection fall under the Department of Agriculture but it does depend on the specific State laws and regulations.  Regardless of the particular entity charged with this responsibility, it is vital that business owners, property owners and promoters comply with the applicable laws, rules and regulations. Furthermore, additional steps should be taken to make sure that the rides are safe and well maintained.  When the ride is in operation, it is important that all safety measures are taken with respect to the overall control of the ride and the individual seats and ride units.  All latches should be secured and seatbelt should be worn as provided.
When an adult or a child is injured as a result of the negligence of a fair, amusement park, theme park, festival, and / or the seller, distributor, or manufacturer of the ride, a case or claim can and should be brought on behalf of the injury victim.  David Wolf is a personal injury attorneys with over 26 years of experience.  He has handled personal injury cases on behalf of children in many communities.  He is the author of 11 books including the book titled –
The ABCs of Child Injury – Legal Rights of the Injured Child – What Every Parent Should Know
.  This book has a section on Theme Park and Amusement Park Personal Injuries.  You can get this book for free at
The ABCs of Child Injury. 
It was reported in Port Townsend, Washington that a seven year old child and two women suffered personal injuries when they fell out of a Ferris wheel cart.  Witnesses reported that the Ferris wheel cart flipped over and then the occupants fell out falling 15 feet onto the metal landing of the ride.  Serious injuries resulted from this incident which took place at the Rhododendron Festival in the Downtown section of Port Townsend, Washington. You can read more about this incident at
Ferris Wheel Personal Injuries Reported in the State of Washington – Ferris Wheel Cart Flips Over. 
When investigating a personal injury case, it is important to establish four key elements:
Duty;
Breach of Duty;
Causation; and
Damages
The legal burden to prove up a case is upon the victim and his or her attorney.  While many amusement and theme park cases seem clear on the face that there is a legal case to pursue, there are many twists and turns to most legal and insurance claims.  Businesses and insurance companies are well represented.  In a similar manner, the victim and family should be represented by a qualified and experienced attorney as well.  Fortunately, most personal injury attorneys will handle a case on a contingency basis which means that there will be no recovery or payment of attorney fees or costs unless there is a financial settlement / recovery on the case.
David Wolf has written thousands on articles on personal injuries and safety issues.  He firmly believes in Giving a Voice to Injury Victims and Their Families.  Contact David Wolf today to get a better understanding of your legal rights.  David Wolf provides a Free Consultation to his clients and prospective clients.