By David Wolf, Attorney
Published by Child Injury Lawyer Network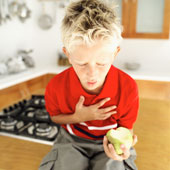 Choking is a leading cause of injury and death in children, especially children under the age of 4-years-old. The main reason for this is because children have a tendency to put almost anything inside their mouths. The most common objects are food, toys and coins. And, although toys are labeled as choking hazards, food is not. According to a published study by Dr. Gerry Smith, director of the Center for Injury Research and Policy at the Nationwide Children's Hospital in Columbus, Ohio, a child will die every 5 days in the United States from choking on food. Smith urges the government to place warning labels on foods that pose choking hazards.
Here are some high-risk foods: Hot dogs, grapes, popcorn, nuts, hard candy, raw carrots, apple chunks and seeds. The riskiest foods are those that are hard and round because these foods have a high potential of plugging a child's airway.
Below are some simple guidelines parents, daycare centers and childcare providers can implement to avoid choking:
1. Avoid the high-risk foods mentioned above.
2. Children should never be allowed to eat while running, playing, or lying down.
3. Children should be supervised while eating. Do not allow children to eat snacks in the car while you are driving.
4. If children are upset, crying, or breathing fast or are otherwise emotion do not let them eat.
To see more tips on how to prevent choking see Tips and Guidelines parents, day care centers, child care providers and babysitters can use to decrease the risk of choking.