By Stephanie Brown and David Wolf, Attorney
Published by Child Injury Lawyer Network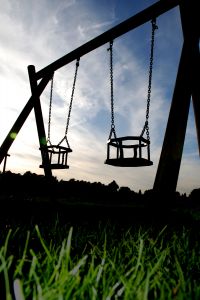 In Georgia, rules and regulations are in place for the set up, supervision, and maintenance of playground equipment for Georgia Day Care Centers. The purpose of these rules and regulations is to promote safe play and ongoing supervision so as to limit or prevent child injuries that often take place when children play on playground equipment. Pursuant to Chapter 290-2-2-.12 (aa) (8) & (9), Physical Environment and Equipment – Rules and Regulations for the State of Florida, day care centers need to arrange outside playground equipment so that supervision of the children is not obstructed. The Georgia legislature recognizes the importance of supervision. If equipment prevents or obstructs proper, close supervision, then the facility may not be in compliance with these Georgia rules and regulations. Climbing and swinging equipment, like ladders, monkey bars, and other equipment, shall be properly anchored and shall have a resilient surface beneath the equipment and the fall zone that is adequately maintained. In addition to the above, day care centers should make sure that swings, ladders, slides, and other playground equipment are free from litter, sharp edges, and other hazards. Playground equipment can rust and become deteriorated over time. As such, it is important for a day care center to institute and follow a maintenance and inspection program to make sure that the playground equipment is safe for continued use and free from hazards. You can read about the rules and regulations at Chapter 290-2-2.12 (aa) (8) & (9), Rules and Regulations for the State of Georgia.