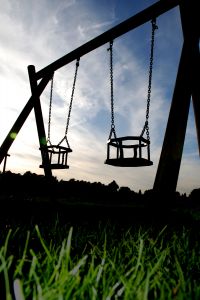 By Stephanie Brown and David Wolf, Attorney
Published by Child Injury Lawyer Network
While Georgia's Recreational Purpose Act is designed to encourage landowners to open up their property to the public for recreational purposes, the law has the effect of shielding landowners from liability for injuries caused by dangerous conditions on their land to children and other victims. This law permits landowners, including state and local governments, to maintain facilities with little regard for the safety of children using facilities such as parks and playgrounds. In a recent Georgia Court of Appeals case, a child was injured on a swing in a park owned by a Georgia city. The swing was installed on a hard surface rather than over a soft, resilient surface as recommended by the manufacture. Further, the city replaced certain parts on the swing with parts that were not recommended by the manufacturer and did not operate properly. Articles in local newspapers discussed dangerous conditions in the city's parks, including the park where the child was injured. A lawsuit was brought against the city for the child's injuries.
Under the Recreational Purpose Act, however, the Georgia Court of Appeals held that the city could only be liable for willful or malicious failure to guard or warn against a dangerous condition. In order to recover, the injured child had to show that the city had actual knowledge that the condition involved an unreasonable risk of harm to users. The court found that even though the city has instructions and warnings from the manufacturer about what type of parts to use on the swing was not sufficient to show actual knowledge of a dangerous condition on the part of the city. Because there was not sufficient evidence to establish the city's actual knowledge, the city won and the child had no source of recovery for his injuries on the city's dangerous equipment. Collins v. City of Summerville, 284 GA. App. 54 (2007).
Laws and cases like this set a dangerous precedent that does not promote the safety of children. Landowners should have some liability if a child is injured as a result of negligence. As you can see, the laws of Georgia and other States do not always favor the best interest or safety of the child.