By David Wolf, Attorney
Published by Child Injury Lawyer Network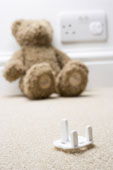 Below are some tips about "baby proofing" one's home and seven safety product categories to keep "top-of-mind".
Baby-proofing Tips
1. Nursery – Children under the age of 5 are at the greatest risk of home-injury and fire-related death. Ensure your home's smoke alarms are working. Install carbon monoxide detectors.
2. Kitchen – Constantly supervise your infant while eating. Cut the infant's food into small pieces and avoid giving young children food that is too large, hard or round. A child's chewing techniques are not fully developed until around age 4.
3. Bathroom – A baby's skin is very sensitive – hot water can burn a baby's skin in mere seconds. Run your hand through the water before placing the baby in the water to ensure there are not "hot spots." Water thermometers are also useful here.
4. Playroom – Assess the play area from the child's eye level. Be aware of table corners and small toys or objects.
5. Around the House – Install safety gates at the top and bottom of stairwells to prevent falls. Gates can also be placed to block access to fireplaces, furnaces, driveways, and other potentially dangerous areas.

7 Safety Products to Keep in Mind – Below is a list of 7 critical safety product categories for parents:
1. Safety Gates
2. Smoke/Carbon Monoxide detectors
3. Outlet Covers
4. Locks and Latches
5. Window, Corner and Stove Guards
6. Bath and Water Grips, Stops and Locks
7. First Aid Kits
It is important to keep the home a safe place for children. These are simple tips that can save your child's life or prevent your child from sustaining serious injury.
You can read more of these home proofing tips at Safety Tips for you Home and Day Care Center.