By David Wolf, Attorney
Published by Child Injury Lawyer Blog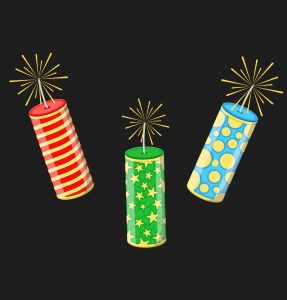 There are certain times of the year in which the sales and ultimate ignition / explosion of fireworks are prevalent – July 4th (Independence Day), New Year's Eve, and New Year's Day.  It is at these very times of year that there are reports of both minor and serious personal injuries suffered by innocent children and adults merely in the area of the fireworks at bystanders and spectators.
Every year, child safety advocated (including myself) caution professional and amateurs alike regarding the dangers of fireworks and for all individuals, businesses, and government entities to take all necessary precautions to protect children and adults alike from any of the risks association with the ignition and explosion of fireworks.  For amateurs including homeowners, the best advice is to simply the refrain from setting off fireworks especially those fireworks that shoot, fly, wiz, and bang.  It is these very fireworks like "bottle rockets" and "Roman candles" that cause serious personal injuries to children and adults including some very serious burn injuries and eye injuries.
In reviewing a case or claim for personal injuries caused by fireworks, a Personal Injury Attorney will review the four essential elements in order to establish a viable claim or case:
1. Duty;
2. Breach of Duty;
3. Causation; and
4. Damages
Plain and simple, fireworks are dangerous.  One way to avoid any further injuries to adults and children alike is to ban fireworks.  Many would argue against such a drastic move; however, it just seems to make sense in light of the injuries that take place every July and every December and at other times of the year.  A less drastic approach would be to limit the ignition and display of fireworks just to professionals and municipalities.   There will be a vocal contingent against this approach as well.  Whether fireworks are allowed or limited in part or whole, we all must agree that safety is key to protecting children and adults.  Common sense can go a long way to protecting innocent children and adults.  Another complicating factor with fireworks involves the use of drugs and alcohol.  As people tend to celebrate through the night, there is at times a most dangerous mixture of impairment (caused by alcohol and / or drug consumption) and fireworks.
If a child or adult is injured by fireworks due to the negligence of another person, business entity, or government entity, there may be a case or claim to pursue on behalf of the injury victim. The personal injuries that result from fireworks can be quite significant and can include burns, lacerations, eye injuries, scarring, and even the amputation of fingers and other extremities; however, it should be kept in mind as noted above that the element "Damages" or "Injuries" is only one of the four elements required to establish a claim or case on behalf of a victim of a fireworks mishap or incident.  All four elements need to be established or proved to prevail on a case or claim on behalf of a personal injury victim.
David Wolf is an author, advocate, and attorney who strongly believes in Giving a Voice to Injury Victims and Their Families.  He has done so for over 25 years.  He is the author of 7 books including the book titled – The ABCs of Child Injury – Legal Rights of the Injured Child – What Every Parent Should Know.  This book has chapters on Homeowner's Insurance, Theme Park and Amusement Park Injuries, Settlement / Compensation, and other topics. You can get this book for free at The ABCs of Child Injury.