By Thomas Hastings, Attorney and David Wolf, Attorney
Published by Child Injury Lawyer Network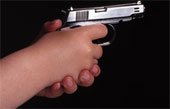 Chance Jackson, a 15-year-old student, was transported by air ambulance to Methodist Hospital where he underwent surgery after he was shot at his school, West Middle School in Martinsville, Indiana. Students were put on lockdown for nearly 5 hours following the shooting. Approximately 600 students attend the school. The suspect, who was a student that attended the middle school, has been taken into custody but was not arrested. The suspect's name, age and grade was not released as part of the initial news reporting of this incident. According to police, the suspect walked away from the middle school after the shooting around 7:30 a.m. He was eventually apprehended several miles away. Police, who traced the boy's path, found a handgun in a wooded hillside. The suspect and other witnesses will be questioned and the investigation is ongoing. It is rumored that school officials were previous warned that violence might occur. However, Martinsville West principal Suzie Lipps denied those allegations. If arrested, the suspect will face attempted murder charge. Since the investigation is ongoing, the filing of criminal charges will depend on the evidence obtained and the decision by the local prosecutor's office. For more read Student shot at West Middle School in Martinsville, Indiana.