By Robert Chaiken, Attorney and David Wolf, Attorney
Published by Child Injury Lawyer Network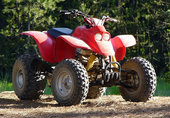 Four year old Dakylie Hamilton and his three year old sister Desean Hamilton were given a battery powered plastic toy all terrain vehicle (ATV) for Christmas this year. According to the Wills Point Police Chief, the two children were not being supervised by an adult when the toy plunged into a creek near their home. They were pulled from the water but were not responsive and could not be revived. The children's single mother was at work when the accident took place, and the children were supposed to be under the care of their grandmother. Texas Child Protective Services have been alerted, as there are other children living in the home. While the investigation is still underway, police are calling this a tragic accident.
Children of any age need to be supervised by an adult when riding any kind of motorized vehicle. Adults can make sure that the road is clear of debris and other hazards, and enforce proper safety habits like wearing a helmet and keeping the speed of the vehicle under control. You can find out more about this tragic ATV accident that killed two children at Two children die when toy ATV drives into creek in Wills Point.